'Grammers put your hands up for World Photography Day! The movement was started in 2010 to celebrate photography, its impact on the world and to commemorate the patent date of the daguerreotype, an early form of photography in August 19, 1839.
Today, the world will connect through #WorldPhotoDay. Here in Augusta, Ga. we have a ton of great spots to get the perfect shot. Here are our five favorite photo destinations:
James Brown Statue. If you're a local, there's no surprise here. Taking a selfie with the Godfather of Soul is an Augusta Bucket List item. Find him between the 800 and 900 blocks of Broad St. What's even cooler? You don't actually need your camera. The James Brown TXT cam, developed by programmer John Stewart in collaboration with the Clubhouse, will take your photo for you and text it to you. Neat! #jamesbrown

Photo credit: Erica Langsam, Fine Arts major, August 12, 2018 Model: Haley Sullivan

Art on the walls. What could be more refreshing than an ice-cold glass of water on a hot summer day? How about a non-profit art organization partnering with Augusta University members to create the largest Water mural in all of Augusta!!! A collective of 13 murals come together to share the story of Augusta through the depictions of the multiple water sources that help to create Augusta's very own drinking water. The next time you are driving down Wrightsboro road, make it a point to stop and admire these beautiful walls, located near "The Village" shopping center! #loveaugusta

Photo credit: Erica Langsam, Fine Arts major, August 14, 2018 Model: Deseree Mcclendon

Porkchop's "Happy Robot". It is said that simple reminders of happiness throughout the day help to keep negativity away! Leonard "Porkchop" Zimmerman created Augusta's iconic Happy Robot to help plant the seed for positive thinking within the community. It's just a simple reminder to BE HAPPY!! Seriously, It's hard not to smile in the presence of a Jolly Robot! Head on down to 10th street, capture your moment of happiness and share it with your friends! You could be someone's simple reminder!! #happyrobot

Photo credit: Erica Langsam, Fine Arts major, August 12, 2018 Model: Haley Sullivan

Cyclist mural. On the corner of 9th and broad, you find one of Augusta's older murals that paints homage to our dedicated cycling community. You might see them riding through downtown and on the canal. It's a little sun peeling and faded but that's what makes it such a unique photo background! #downtownaugusta

Photo credit: Erica Langsam, Fine Arts major, August 12, 2018

Keep Downtown Augusta Funky. From Amazing food, bars, theatres and even museums, Broad Street is a visitor's direct route to what Downtown Augusta has to offer! So can you blame artist's Jason Craig and Leonard "Porkchop" Zimmerman for taking advantage of the location to remind Augusta to "Keep downtown Funky"! Our downtown is up and growing with Art and nightlife! So come show your support, and help spread the word to keep downtown Funky! #keepaugustafunky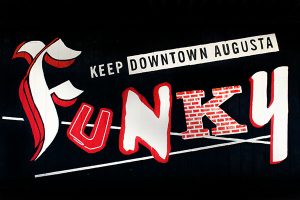 Happy Snapping!