Match Day is one of the most anticipated events of every med student's life. The anticipation is almost unbearable until you can finally tear open that crisp, white envelope that will tell you where you'll spend your residency.
"Match Day is an exciting day. Medical College of Georgia students have headed to top tier residencies programs like Johns Hopkins, Mayo Clinic and Harvard and in a wide range of specialties," says Dr. David Hess, Dean of the Medical College of Georgia.
Here are some other great things about Match Day that make it even better!
1. It's a new start.
The beginning of residency doesn't just mean the start of the next part of your medical training. It's more often than not a chance to move somewhere new and learn to love a whole new city, people, and culture.
2. It's a moment of connection with med students across the U.S.
Since most of the many medical schools in the U.S. participate in Match Day, you can feel supported in the knowledge that not only are your fellow med students at your school sitting on the edge of their seats with you, but over 30,000 other med students across the country are as well. You're all experiencing a day you'll never forget!
 3. The moment when you finally receive the envelope.
Each letter is printed individually for every student by the medical schools! The letter you get is yours and yours alone, written from the results of the matching program. We're not going to lie, the moment that envelope enters your hands is pretty magical.
4. The costumes and celebrations.
Many schools have huge, themed events while students wait to find out their match. Medical College of Georgia has a different theme every year where you can dress up and participate in fun group activities and have something to eat with your friends!
5. It's a family affair.
Speaking of friends, students often bring guests along to this momentous day, anyone from close friends to parents to siblings. There's nothing better than to have your loved ones surrounding and supporting you when you find out this hugely important news.
6. The anticipation.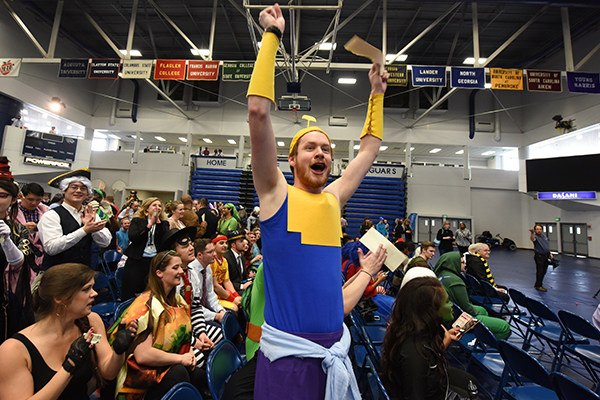 Yes, you're anticipating hearing your name and receiving your envelope, but there are also often mini-contests at Match Day events to get students even more excited. Medical College of Georgia, for example, lets students put one dollar into a collection—whoever's name is called last to receive an envelope also gets the money from the collection!
7. It all makes for a pretty sweet class photo.
Whether your Match Day is coming up soon or is still a while away, there's no shortage of reasons to look forward to it! We wish the best of luck to everyone participating in Match Day and hope the next step in your medical career is everything you've wished and trained for.
Great doctors, great medicine.
As one of the nation's oldest medical schools, we are proud of our history and excited about our future. Learn more about the Medical College of Georgia at augusta.edu/mcg and apply today.