Political science major Grace Welsh is no stranger to a packed schedule. If she isn't in classes or running a meeting as the president of both the Honors Program Student Association and Pamplin Ambassadors, she's probably deeply immersed in her current research project or exercising her creative side by modeling.
When she has time to relax, odds are she's watching her newest favorite K-drama. K-drama, short for Korean drama, is one of the fastest-growing cultural influences in the world, along with its close cousin, K-pop.
Grace has been interested in Korea and Korean culture since high school, and her interest developed into the research focus for her Honors program undergraduate thesis, a look at Korean pop culture "to understand why U.S. military values, cultures, and norms from the Korean War era are so prevalent in current Korean pop culture, and how those values have helped Korean pop culture become so successful internationally."
Not only does Grace love expanding her knowledge of Korean culture, but she has a passion for American politics as well. She has interned two summers in Washington, D.C., in the offices of United States senator David Perdue and United States representative Jody Hice.
"I would like to serve in some capacity in the federal government or in regard to the international relations aspect of my degree and work with foreign entities as they bring their business to the East Coast. With Fort Gordon being in the backyard of Augusta University, it definitely makes an impact on the opportunities available to someone like me with a political science degree."
She also worked as a staffer on the most recent Georgia gubernatorial election.
Grace plans to soon put her political interest, research findings, and love of culture to good use on a trip to South Korea, where she hopes to learn more and strengthen her skills in the Korean language.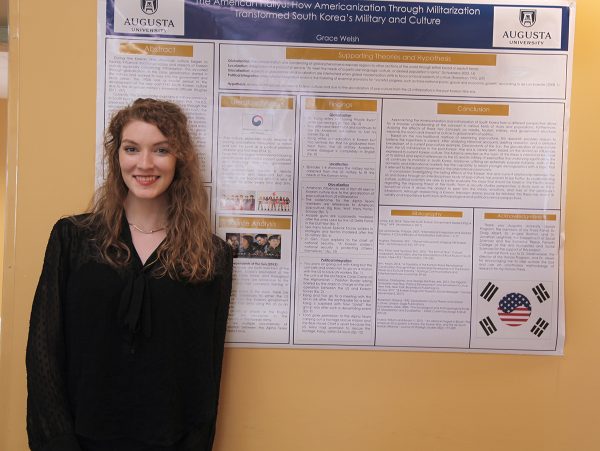 Thinking about a career in political science?
Learn more about the Katherine Reese Pamplin College of Arts, Humanities, and Social Sciences political science programs and apply today!