James, Medical College of Georgia student and a native of Sugarhill, GA, attended undergrad at Emory University where he majored in biology and music. His passion for music was cultivated in middle school when he decided to join the orchestra and play the cello. He never strayed from the cello throughout his youth and was able to use his talents to play in a string sextet while getting his undergraduate degree. While many students take a hiatus on musical performance in medical school, James still manages to find time to practice and perform. When he is not practicing alone in his apartment or drawing musical inspiration from the duo 2 Cellos, he is playing with a group he founded called "The Four Chamber Quartet." James enjoys the camaraderie of playing with others and the challenge that comes with coordinating a group of musicians. He describes that harmony is the goal of playing with others:
"When you are playing music, there are a million things in the moment that have to be right."
This group has already played several gigs, including one at the White Coat Ceremony for the Class of 2021. Because of James' desire to combine the realms of music and service, he also formed an organization called "Music in Medicine." The goal of this group is to use the talents of students at MCG to perform for patients and families at the hospitals on campus.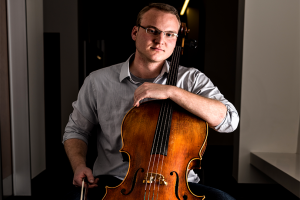 Great doctors, great medicine.
As one of the nation's oldest medical schools, we are proud of our history and excited about our future. Learn more about the Medical College of Georgia at augusta.edu/mcg and apply today.