To celebrate Augusta University's third annual Values Week, the university is highlighting students who represent their values in the classroom and beyond. Meet Mallory, an occupational therapy student who represents the university's core values of collegiality.
Where is your spot in JagNation?
My name is Mallory Babbin. I am a second-year occupational therapy student getting my master's at AU. While I was at AU, I did a bunch of things. I served as president of the student occupational therapy association, I was the behavioral health coordinator for equality clinic and I also volunteered for the steps of grace adaptive ballet class, which is organized by one of my professors.
What's your favorite spot on campus?
My favorite spot is definitely the OT Lounge in the Health Sciences Building. It was a place that I could bond with my classmates and just decompress from a long lecture or grab some lunch. To bond with everyone or get some studying done. It was a good little area for us to just call home in the middle of the day.
What does collegiality mean to you?
To me, collegiality is definitely about learning to be a respectful, efficient and effective team player. It's all about actively collaborating with your colleagues to accomplish a common goal. Everyone has their own talents and acquired knowledge, so it's really important to utilize this value and practice it to all work together. To use everyone's resources effectively so that you can make a really great, high quality, final product.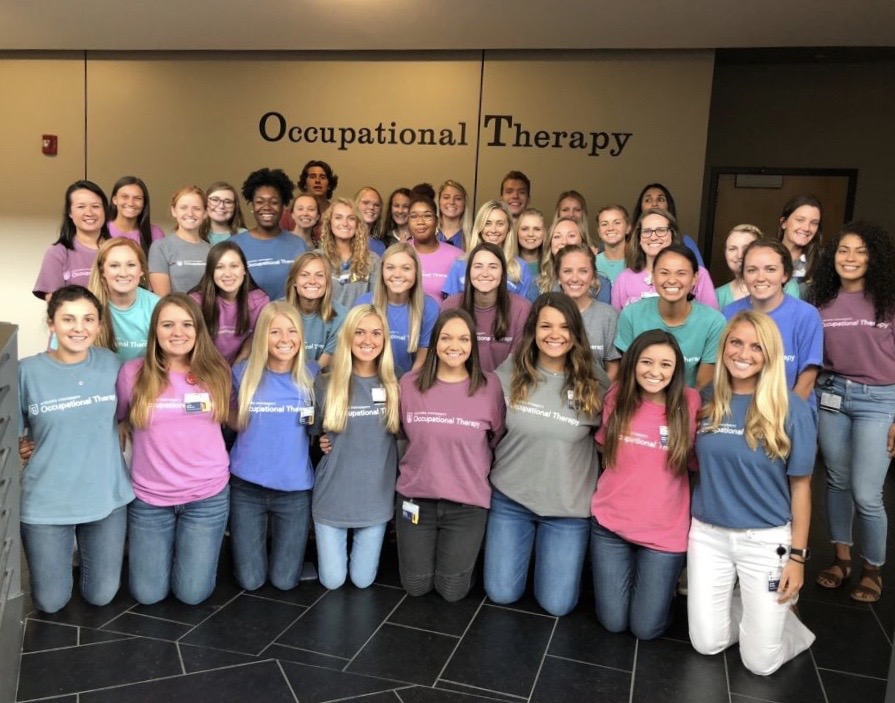 What's the most interesting thing from your university experience so far?
Augusta University's OT is amazing because we have an international fieldwork that I was fortunate to have been able to participate in. We actually went all the way to Jamaica, and they have a wonderful relationship with a non-profit that is primarily stationed in Jamaica. They take care of the special-needs individuals of Jamaica, so we got to go there for a whole week. It was 15 students and three professors. We got to go there to give them OT services, implement activities, create a sensory gym for them, and train all the caregivers so that they could help address all the sensory needs of the children at the children's home so that they can function more independently throughout their day. It was a really fun week and we got to learn so much stuff that is real-world – that you can't learn in a textbook.
What's your favorite thing about JagNation?
Everyone who I've come into contact with has just been so welcoming and passionate and knowledgeable about their respective disciplines. Everyone's willing to help each other out and either learn about their discipline or just teach everyone to be well-rounded practitioners later on in their career. Everyone always has a smile on their face and they're willing to go the extra mile. Especially, our professors, go that extra mile to use hands-on techniques and really use research-based and up-to-date information to make sure that everyone is on the same page. That we're all working towards becoming very effective healthcare professionals in the coming years.
How do you represent your respective value (collegiality)?
I love a teamwork approach to solving problems because I know that no one is perfect, and no one knows every answer to every question. So, I love getting input from other people. I've been fortunate to be able to practice teamwork at AU especially because we have a ton of group projects in OT. I know that the field that I'm going into is very much a team-based approach to healthcare, so I definitely tried to adopt that in my leadership style as I was president and equality clinic coordinator. We looked at all angles and all worked together to better our organizations, and I think that's something that is really valuable to learn at an early age before we get into healthcare because that's really how you're going to get the best functional and health outcomes for your future patients. Being able to collaborate with nurses, OT, PT and all the physicians is a very important thing to be mindful of.
What's something that the average person wouldn't guess about you?
Something that comes to mind is a passion project that I've worked on for the past few years. My sister is 8 years old and she has down syndrome. My mom, a few other down-syndrome mothers and I got together and started a non-profit that provides books to kids with down-syndrome each year on their birthday. It's a special little book that is developmentally appropriate for them at that stage of life. A lot of them teach confidence, you are how you're supposed to be, how to be a great friend and social skills. We'll do cookbooks when they're older and things like that. It's a fun little book club and they get a sparkly package in the mail every year for their birthday, and it's so fun to see them light up. This is really something fun for us to do in our spare time that has a sweet little effect on the community around us.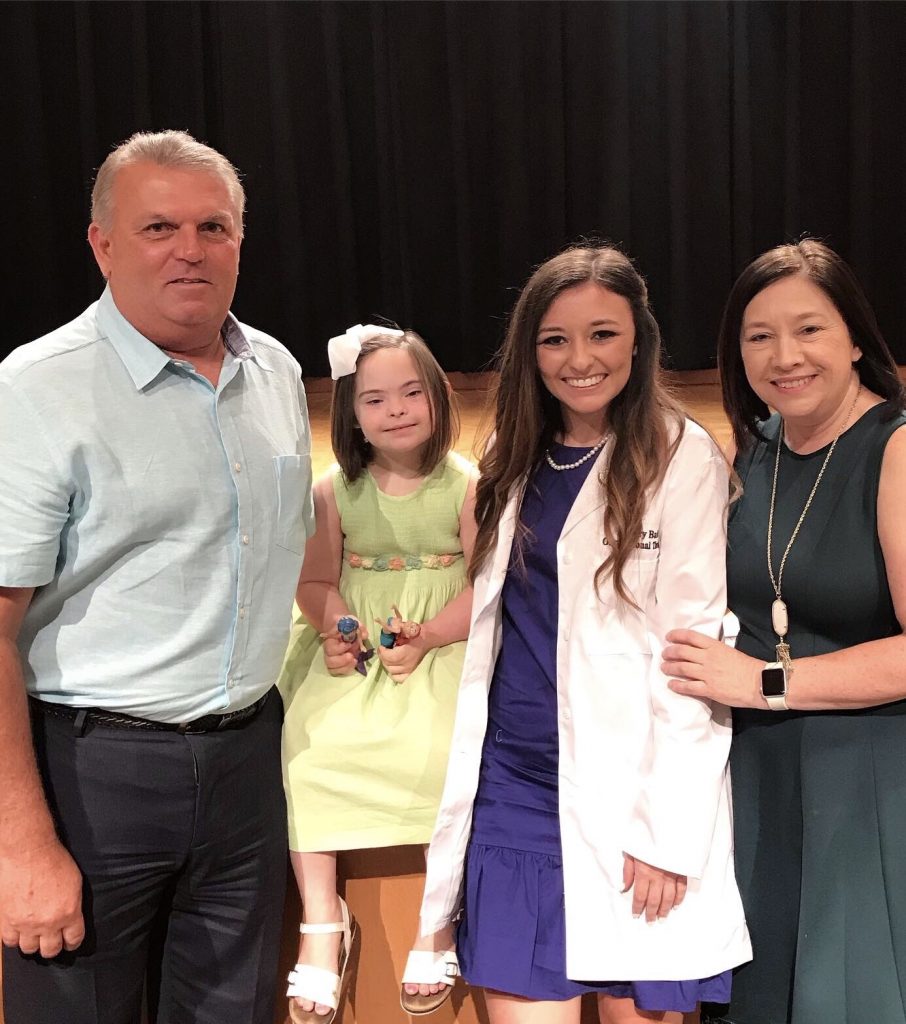 How do you like to spend your time outside of campus?
I'm from Louisiana, so exploring Georgia has been the coolest thing about moving all the way out here. I love hiking, and I wasn't an outdoor person until I moved to Georgia, but now I adore hiking. I love going on little weekend road trips two or three hours away. I love spending any time that I can exploring all the cool little towns like Savannah and towns up in the Blue Ridge Mountains. I love all the views and I also love taking that time to decompress and spend some time with all my friends and family who are coming along for the trip. It's always fun to have some downtime and have an adventure at the same time.
What would you recommend to students who want to become more collegial?
The most important thing about collegiality is to stay open-minded when you are working with someone. We all come from different places and different walks of life, and you just have to learn how to work with a lot of different types of people. I think this past year has taught us a lot about mental flexibility, diversity and making sure that we are aware of our unconscious biases, which is often overlooked.
We might not realize that we have a certain opinion about something, but it's important for us to reflect on that and carry the lessons of 2020 forward as we start to work together more and more. I think we've done a great job of acknowledging those this year, especially with quarantine, and bonding together to keep everyone as healthy as possible. But as we go into 2021 and further, it's important for us to carry those lessons with us to stay open-minded and know that life is dynamic and complex and the only way to make it through is with each-other. So, we all have to work together and work toward our common goal of happiness and prosperity. We can only get that when we work together.
To learn more about Values Week, listen to the latest episode of In the Wild.
Ready to experience what life is like at Augusta University?
Create your own path with nationally ranked programs, a diverse community and endless opportunities to get involved. Apply online today!