Creating a diverse & inclusive student-life environment is important to any college campus and Dr. Garrett Green is one of the driving forces behind the efforts at Augusta University.
Green is the director for the Office of Multicultural Student Engagement (MSE) and is responsible for the development and provision of programs and services that enhance the multicultural student experience at Augusta University. The Multicultural Student Center, which Green oversees, is celebrating its one-year anniversary after opening its doors in September 2019!
>>> Listen to Dr. Green on the official Augusta University Podcast, In The Wild, with host Raysean Ricks
Green knows the university and his department all have a part in creating a welcoming environment for all people and cultures.
"It's the multicultural student engagement's office to serve that purpose," Green said. "Also to educate students abroad on the importance of being culturally competent. Having a level of cultural competence allows you to work with people from any background, no matter the color of their skin, their face, their sexuality or gender. It is our role to be able to make sure students are getting that education so they can be as prepared as possible for this interconnected world."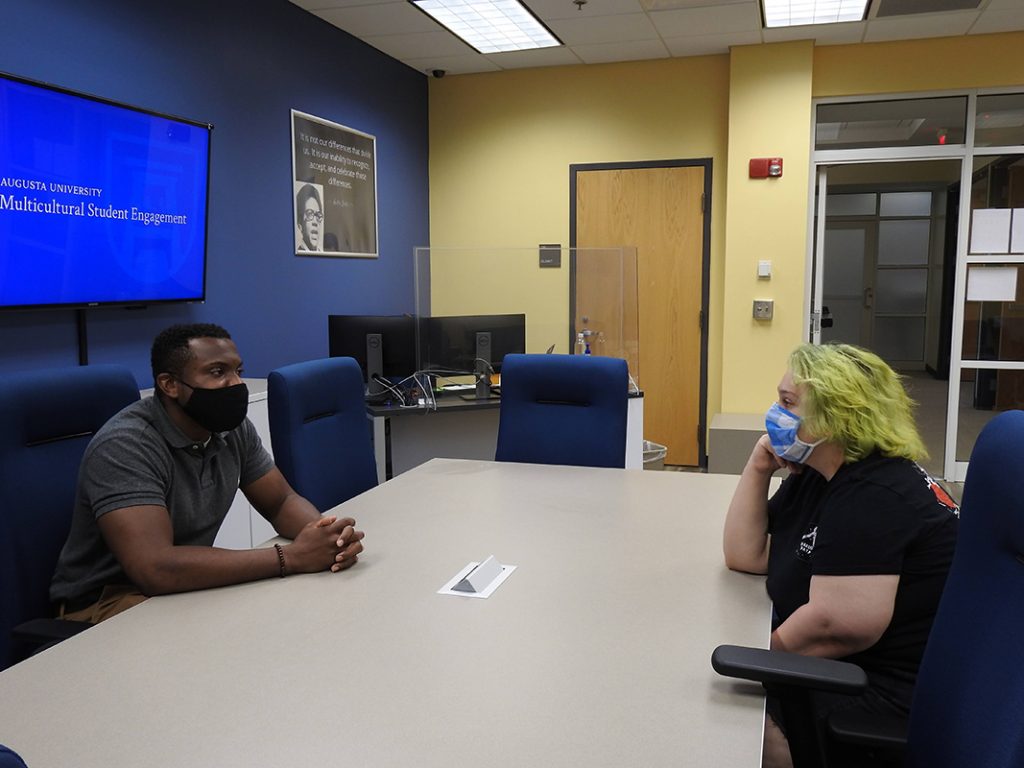 After gaining his bachelor's degree and master's from Georgia Southern University and working as an academic advisor, Green arrived to Augusta in May 2014 as the retention and recruitment coordinator for the College of Nursing. Always putting students' needs and best interest first, Green was promoted to the assistant director of student life and engagement in September 2015 and took over as the director of multicultural student engagement in October 2019. He earned his doctorate of education in 2019 and made it a priority to include a focus on
"I'm just really passionate about this," Green said. "My dissertation was on the black student experience at Augusta University. It's really great to be able to do the research that my team conducted in practice and in my day-to-day job, so it's been really interesting. This past summer was definitely a roller coaster. Definitely the lows of the amount of black individuals that were lost to some form of police brutality and that was very unfortunate and disturbing, but the positive out of that, if you can try to find a positive, is that we have really seen a level of prioritization and focus on racial justice and social justice in general."
MSE works alongside other departments and student groups to make sure that creating an institutional culture for collegiality, compassion, excellence, integrity, leadership and inclusivity is a priority for Augusta University. Augusta University President Brooks A. Keel, PhD, also shared a personal message and an action plan to keep AU on a path toward an inclusive campus climate.
"Our office is really important to because our job is to keep the momentum going and create as many initiatives and better the student experience as much as possible due to this prioritization that really MSE and ODI offices really haven't had before."
Check out the Office of Multicultural Student Engagement (MSE) in room 209 located on the second floor of the Jaguar Student Activities Center on Summerville Campus.
Learn more about the Office of Multicultural Student Engagement by clicking here