What do you remember about your first semester of college? For me, it's one big blur save for the morning I sat down in math class next to a girl who said through tears, "It's the beginning of World War III."
I had no idea what she meant, but it didn't take long to learn. That math class was set to begin at 9 a.m. Tuesday, Sept. 11, 2001.
I was 1,000 miles from New York City at my alma mater, Southern Illinois University, but the shock and grief of that morning and the ensuing months was felt across every pocket of America. And as it turned out, my classmate's prediction of these events setting off a war was not wrong.
My fellow freshmen and I waited and watched that fall while President George W. Bush – who just the year before won a contentious election in which most of us weren't even old enough to vote – pushed toward war in Afghanistan.
It felt like the most uncertain time so far in our young lives. Some friends enlisted; others protested. The last major U.S. conflict most of us remembered was the Gulf War, when we were still too young to truly understand the consequences.
Adding to the rest of the headlines that year, we were worried about anthrax attacks, the spiraling economy and growing government surveillance.
Though we remained hopeful for a better future, young people who started out amid 9/11 and its aftermath may have thought the world couldn't ever be as topsy-turvy as it was then.
Until 2020.
Brandon Shakespeare, an Augusta University freshman studying biology, wasn't even born at the time I was experiencing my freshman year, but he's starting his own journey with the same level of uncertainty.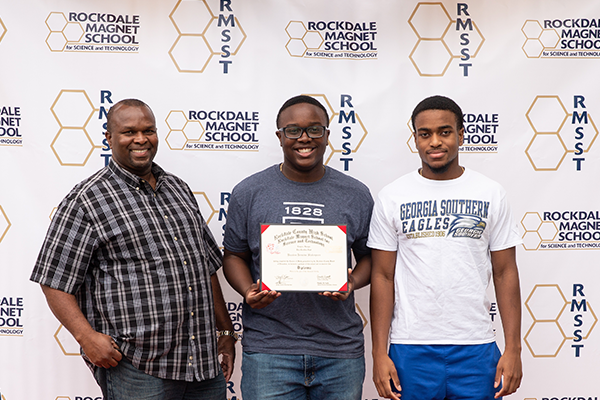 He learned about 9/11 in history class – the same way the next generation will learn about the headlines of this year. The War on Terror raged on throughout his childhood. He was not old enough to vote in the last presidential election.
And he's now marking one of his life's biggest milestones during one of the most unusual times in the history of not just our nation, but the entire world.
I met Brandon during Move-In Week this August, a time that's always exciting and ripe with possibilities, especially for the newest Jaguars. The move-in process may have looked quite different this year, but that excitement was still palpable.
Brandon, who's from Conyers, Georgia, told me he feels safe on campus in a mix of in-person and online classes. He's been able to make friends. And with his eyes on medical school, the COVID-19 pandemic hasn't set him looking another way. In fact, "it's actually making me want to go into it more," he said.
"I've always wanted to be in the medical field. I've always wanted to help people, so this wouldn't necessarily push me away," Brandon said. "If anything, it draws me more to it, because I love to help people in any way I can."
Studies have shown the pandemic has disproportionately affected minorities physically, mentally and economically. In addition, 2020 has continued to expose racism in America, with increasing calls for actionable change. From his perspective as a Black male, Brandon feels these challenges will only serve to improve the prospects for him and his classmates.
"We're getting more educated. We're learning about these things and trying to make a change and do better. So, I'm actually kind of hopeful," he said.
We talked about how important it is for college freshmen, and particularly this class, to seek out a supportive community to help them find success.
"My family is my support system. I can go to my dad and my brother about anything," he said. "You're only as strong as your weakest link. I think as long as you surround yourself with like-minded individuals, you will be fine."
Through it all, he remains positive about the Class of 2024.
"I'm really excited for the year. I only know so much about the medical field and I haven't really been able to explore, so I'm excited to do things like that. I'm actually really hopeful for the future," Brandon said.
Nineteen years after that tumultuous freshman fall, I returned to the classroom myself to start the Master of Public Administration program here at Augusta University. One of my textbooks opened with an article about 9/11.
Life still feels uncertain. But what keeps us moving forward is a continued hope for the future. I remained hopeful for brighter days back then, and meeting Brandon helps me remember, once again, that brighter days are coming.
As we parted ways, I couldn't help feeling motherly toward this bright, kind young man. After all, I am a mother now, something that freshman of 2001 never pictured. He knows to wash his hands and wear a mask, but I also felt compelled to remind him to eat right, sleep well and exercise.
Oh, and to vote. It's the surest way to help shape the future for us all.
Ready to experience what life is like at Augusta University?
Create your own path with nationally ranked programs, a diverse community and endless opportunities to get involved. Apply online today!