Story by Augusta women's golf senior and marketing intern Teresa Diez-Moliner
The Augusta University men's golf team is hosting its home tournament, the Augusta Haskins Award Invitational presented by Valspar, April 3-4 at Forest Hills Golf Club. This is the 42nd edition of Augusta´s home event that includes 15 teams with eight that are nationally ranked in the top 50 and three that are seated in the top 10.
The 2021 field includes Augusta, No. 17 Arizona, No. 5 Arizona State, Army West Point, College of Charleston, Georgia State, No. 4 Illinois, Kennesaw State, No. 36 Notre Dame, No. 8 Oklahoma State, No. 15 Pepperdine, South Carolina, No. 23 South Florida, UCF, and Virginia Tech.
"We are pleased to have Valspar as the presenting sponsor of the Augusta Haskins Award Invitational," head coach Jack O´Keefe said. "To partner with the prestigious Haskins Award has made our tournament stronger than ever."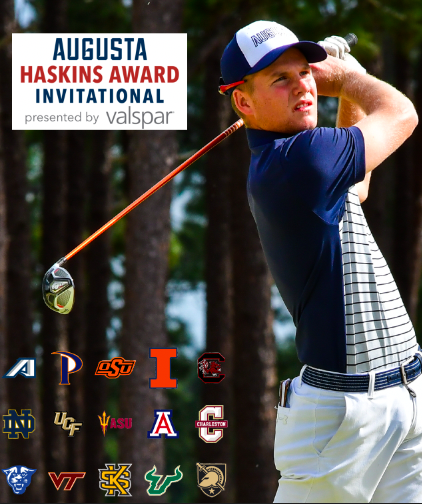 Created by the Haskins Commission in 1970, the Fred Haskins Award presented by Stifel is given annually to the "Most Outstanding Collegiate Golfer of the Year" as voted on by NCAA Division 1 golfers, coaches and select golf media. The Haskins Award honors Mr. Fred Haskins, a respected past head professional at the Country Club of Columbus, who dedicated his career to teaching junior golfers the art of competitive golf. Recipients of the Haskins Award have gone on to win 298 PGA TOUR events, including 30 Majors Championships.
"The Haskins Award has followed strong fields like Augusta's since our early years in the 1970's," President of the Fred Haskins Commission, Madden Hatcher Jr., said. "In fact, many of our past recipients have participated in and won this tournament. We are excited to partner with Augusta University as we look forward to witnessing the next generation of champions for years to come.
The Augusta University men´s golf team did not get the opportunity to host their annual home event last year due to COVID-19, so this year's event will hold a special place in the team's heart.
"We are so excited to be able to play in this year's event, because this will be the first time a lot of us have been able to play in it," sophomore Jack Vajda said. "A lot of the guys on the team were freshman last year or this year."
The tournament will take place April 3-4 on the eve of The Masters. The first two rounds will take place on Saturday, April 3 with a 36-hole shotgun start. The final round will take place on Sunday with tee times off holes one and 10.