Augusta University houses some of the most profound leaders, scholars and professionals in the academia world. The campus culture is unmatched, enriched in diversity, history and opportunities. In celebration of Black History Month, here are some of our amazing faculty that help curate Black history at our university.
Dr. Tiffany Townsend is the epitome of 'black girl magic' and an inspiration to many.
Townsend joined Augusta University in 2019 as the first African-American woman chief diversity officer after serving as the senior director of the Office of Ethnic Minority Affairs with the American Psychological Association.
Prior, she was a faculty member in the Department of Psychiatry at Georgetown University and started her career in the Department of Psychology at Penn State University.
"It's funny, I have a not so linear career path but I always thought that I wanted to be a psychologist since high school," said Townsend. "I felt like that was a good way to help and that is what I wanted to be, a helping professional."
In pursuit of making a difference in her community and the health industry, she obtained her undergraduate degree in psychology at Spelman University and went on to get her doctorate in clinical psychology at George Washington University.
"When I started my program initially, I thought I wanted to simply be a therapist but realized clinician work wasn't for me," Townsend explained. "I was in the academy awhile before moving into administration, so this position now as chief diversity officer gives me the best of both worlds."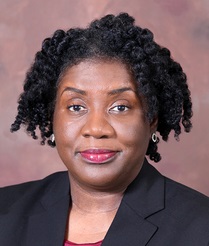 Dr. Seretha Williams is a renowned writer and educator originally from Gary, Ind.
Williams has been representing black excellence on AU campus since 1998 as an English professor, specializing in Africana studies alongside Gender and Women's studies. She is also an interim chair.
"I got here because I was over at University of Georgia doing my doctorate and actually just kind of stumbled into a job ad for Augusta State University, that's what we were called at the time," said Williams.
She has a background in journalism from her undergraduate program at Northwestern University, but expanded her horizons when she took classes in Comparative Literature.
"I had no idea that I would become a professor and earn my doctorate in it. I always thought that I would be an owner of a bookstore, you know, jazz club, selling incense or something," she laughed.
Williams was pleasantly surprised when finding out she received the tenure track position at ASU on her first try and has been making an incredible impact on campus ever since.
Stacy Roberts is a role model and powerful community builder.
Roberts is an ordained minister at New Life Worship Center, and a full-time professor in the Hull College of Business.
"I was an education major at one point and did my student teaching but realized I had to teach another way," said Roberts. "As I got older I went into Human Resources at Automatic Data Processing, ADP and went back to school for my masters even though I vowed I'd never go back to school."
She was grateful she did commit to returning because it fostered her love for teaching. She has written various children books on leadership skills and enjoys developing them through literacy.
"So with my background in HR, I love teaching the students here at AU ethics, organizational behavior, different skills, integrity and anything that can help them be better in the workplace," said Roberts.
James Mayes is the definition of boundless and exudes resilience.
Mayes is a veteran of the United States Air Force and program manager for the Hull College of Business. He earned an associates degree in Transportation and Logistics, a bachelors in Marketing and a masters in Business Administration, all from AU. He also has a masters in Sports Management from Georgia Southern University.
"I chose my current career path because I had a professor, Dr. Holly Carter who introduced me to study abroad and after traveling with her, the experiences I had and places I've been made me want to share those experiences with other students," said Mayes.
He now holds the record for most recruited trips and has been creating room for equal opportunity for minorities to participate in study abroad programs. He also focuses on creating a positive outlet for students of color through mentorship and leading by example in his own journey.
"I try to be that voice of reason, especially to African American males," said Mayes. " I see myself in them and give them the resources they need while letting them know as you attend a predominantly white institution there are faces that look like you who are here for you and care for you, and they're not going through this time alone."
Learn more about activities and events celebrating Black History Month and more on In the Wild podcast.